On the detained Senators accused in the PDAF Scam, ABS-CBN ANCAlerts reports
Other detainees call for transfer of "noisy" senators Revilla & Estrada to another facility.
First, who in their right mind actually believe this shit?  A grade schooler can write this. Second, if it's authentic, what does ANC hope to achieve by posting this?   I believe that the primary audience of this is the management of the PNP Custodial Center.  Similar to dealing with nuisance in neighborhoods, rowdy residents are not transferred to other neighborhoods, rather are warned to follow the rules of the neighborhood otherwise suffer the full consequence of their behavior.  Authorities need not knock on every door in the neighborhood to tell them about the incident. Third, by posting this right away and as is, the message sent out is it didn't do it's job of verifying and filtering intelligent news from crap.  The studio can do better than this, surely.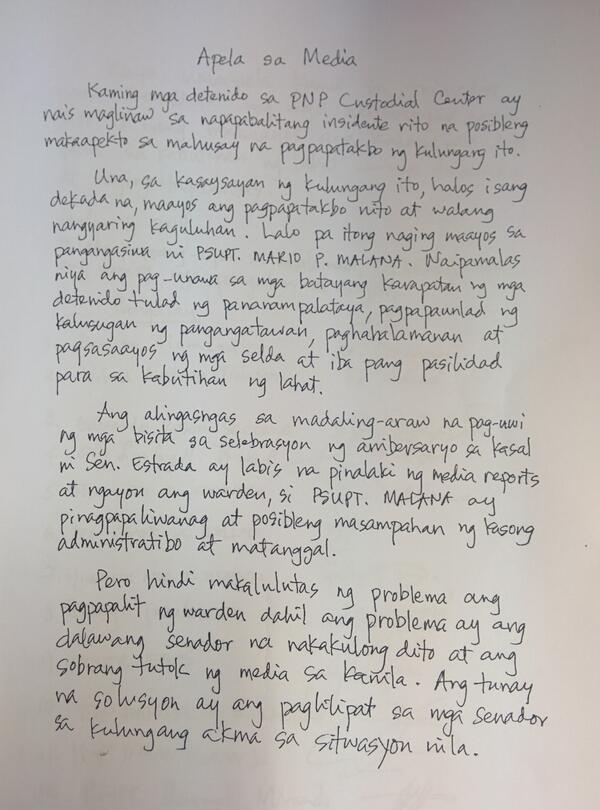 The public understands that media needs to make money too.  But to what extent will it sacrifice the vocation of journalism for profit? To what extent will it choose profit over responsible journalism?  Where does it draw the line?  To what extent does it take it's role in nation building seriously, especially at these crises-filled times?