In the rural South, there's a public transport locals refer to as habal-habal.  It's basically just a motorcycle with "seats" added depending on the creativity of the driver.  Consider the samples below: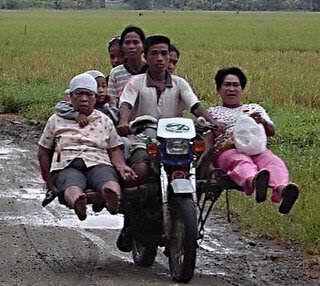 I've taken rides on these only because there was no other option to get to the areas I was visiting.  Such is their remoteness. I like supersonic speed when driving but this is confined to the race tracks otherwise for me the game while on the road is personal safety first.  But speed is beside the point.
I remember one such ride.  I was with a client who had traveled with a trolley luggage (mine was just a backpack as I always, always travel light).  We had spent the night before in the town after visiting the last village in our itinerary.  She was returning to Manila via Tacloban and I was to continue the visit in another town which was on the same way she would take.  We called for a habal-habal as there was no ride going out of the place at that early hour.  This kind had no added seats, just a motorcycle. We were back-riders, technically.
I wondered how three adults and a rather bulky trolley luggage could all fit onto the motorcycle but I kept my mouth shut. The man alighted and surveyed both of us then rather quizzically at the luggage and proceeded to conceive a plan to get all of us on there.  I remember that we were arranged in this order: the client was behind the man with her luggage that was on her lap scrunched between them and I was squeezed in behind her.  I won't already tell how I tried not to fall off when the road went uphill.  Or how the man managed to not slide off when it went downhill afterward.
Turns out, this mode of transport is illegal (Republic Act 4136).
Why do Filipinos – the riding public – enjoy endangering themselves on the road?  Such behavior isn't limited to the habal-habal but also jeepneys, buses, trains, boats, and ships.  We like to cram people into every inch of space inside these and as if that isn't enough, to pile people onto every inch of roof space as well.  No we are not a people who like to over load machines.
Recently I stumbled upon an image of a motorized trike in China…
and further checks showed that the container can be lifted like a dump truck's
and that it could be covered, on those hot or rainy days!
This is world class innovation.  (and may I quickly add that it's just coincidence that this is made in China.)  This is convenience.  This is design with commuters' personal safety in mind.