I'm getting off my rest to be one with Filipinos and the movie-going world in saying we're ecstatic and proud that Jaclyn Jose is the Best Actress at the 69th Cannes Film Festival. She is Ma Rosa in the movie with the same title directed by Brillante Mendoza.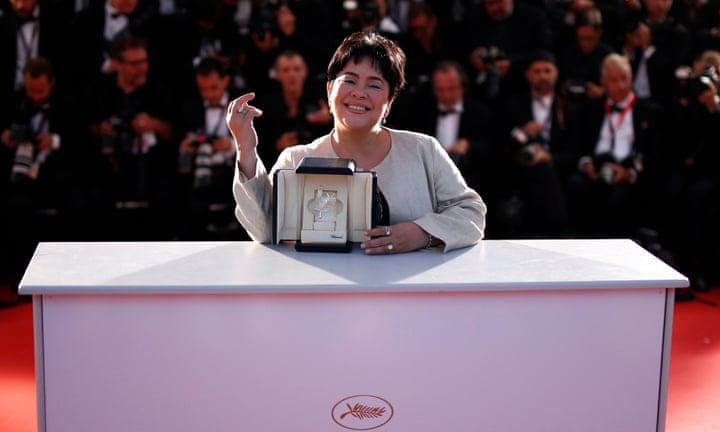 What tipped the jury toward Ms. Jose? The judges admittedly were looking for emotion to "float their boats". Poring through reviews of Ma Rosa, I found those at the Irish Times and The Hollywood Reporter with the best justifications:
The movie, shot in natural light, with little attempt made to illuminate hidden corners, looks to have been kicked all the way from the Philippines to the south of France… This is how it should be…because life really is pretty horrible for the characters… 
Early on in the picture, the cops burst in and drag her and her husband off to the station… The senior officer immediately asks her for a bribe to make the charges go away… The corruption is shameless…
A large part of Ma Rosa is taken up with members of the clan scurrying about the city in search of contributions. One son sells the television. In a strange sequence that seems to be seeking humour from an unsuitable circumstance, another boy sells his body to a businessman.
No such story can end blissfully. But the wonderful final shot…the one of the title character at the very end, Jose…might have helped the film pack a greater emotional punch and given more of a sense of the individuals plights within this family.
If I were in the jury and there were all these entries with relatively bigger productions, familiar themes, and high powered casts, and there was this one entry of small production from a country that's trying to break into the global community, with unknown but promising talent pool, and with a different and compellingly honest story to tell/show, I would cast my vote for this entry. I would've been moved by the layers of meaning the film convey for me: the rawness of the story and it's portrayal (how else would one tell about poverty?) and my imagination of the film's journey into Cannes. And if the lead is good, I would see all these layers converge in her.
That, and for the industry back home the award provides timely and invaluable boost to the relatively unknown side of Philippine cinema– one occupied by struggling productions but otherwise intelligent story tellers and truly brilliant artists. We need more of their films locally.