I haven't been posting lately because of an insane work schedule but I'm taking a few hours off to write something on issues I feel strongly about:
Primary hazard. In the case of the Philippines, natural hazards eg. typhoons are just secondary causes of disasters. The primary cause is continued inaction of local governments (barangays up to the provincial levels) to finance or allocate significant funds in order for local disaster risk reduction strategies, programs, and projects to be implemented. Typhoons such as Lawin/Haima only serve to expose these gaps in local governance.
Compliance to and monitoring for quality standards, for instance. Road cuts in the highways of the Cordillera Region have been due in large part to substandard engineering practices. I'm not an engineer but looking at the image of the Tinoc-Kiangan road cut below, common sense tells you that the way this particular structure is engineered (eg. thickness, no reinforcement, no mitigation structure to counter soil quality, etc.) as exposed by Lawin/Haima will not stand up long to the "wolf's huff and puff" as it did eventually.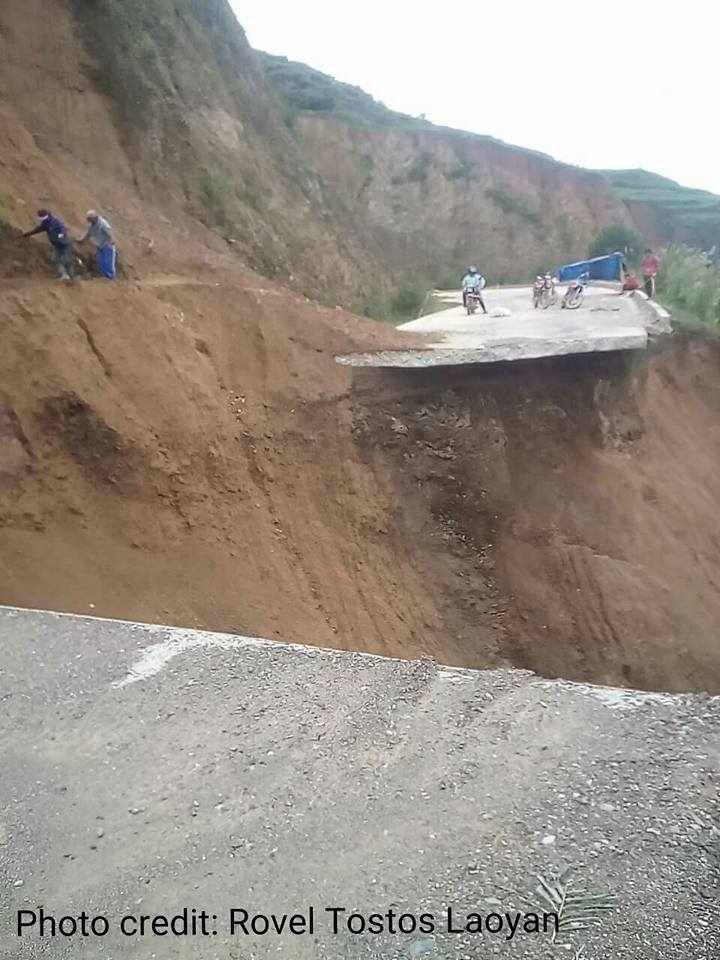 Devastation in housing has been due mostly to negligence in monitoring for compliance to zoning and building standards; and, lack of access to low cost housing and subsidies to low income families eg. tenant and small landholder farmers and fisherfolks in order for them to build safe houses because of course nipa huts and houses of light materials will not stand up long to a 300 kph typhoon.
Damage to power lines can be mitigated or minimized by financing underground installation of such which given this country's exposure to natural hazards by way of it's geographical location should have been started yesterday. But it had not as we continue to build as if blind to our geographical realities.
Devastation to agriculture as a result of typhoons especially among agricultural households shouldn't be as financially devastating to these families when universal access to insurance (crops, livestock, fisheries) or subsidies to such are ensured. There is the Philippine Crop Insurance Corporation but only a small percentage of farmers and fisher households are covered.
Poverty reduction is also a disaster risk reduction strategy. But the poor in this country have not been pulled out of their poverty at the rate that we said poverty reduction should happen. Those who need social protection the most ie. the poor continue to be left behind in social security and health insurance coverage, among others. Jobs in localities are not created and growing at the rate that is more or less equal to the rate that schools produce graduates. Nor is labor in localities protected from exploitation eg. employers who pay below minimum such that families of workers are unable to eat three meals a day. Investments in localities are not as high as those in already overcrowded cities eg. Metro Manila in order to incentivize graduates or those looking for jobs to stay rather than migrate. Lands are not redistributed as provided in law. Etcetera. And it is the children who suffer the most from continued neglect of their local governments to finance and implement local poverty reduction.
Like Tacloban City with Yolanda/Haiyan, cities such as Ilagan in Isabela and Tuguegarao in Cagayan as well as urbanizing municipal towns as those in the Cordillera are being developed as if their legislative and planning councils have not heard about the environmental impact assessment or the national urban development law/agenda, among other urban development and planning policies and strategies. As if local governments have no land use plans or zoning laws. Real estate development continue to be allowed in floodplains without mandating for mitigation measures.
So it's not the typhoon (or earthquake, etc.) but it's the lack of disaster risk reduction measures. Preparedness is merely about, well, preparation just before the onslaught of a hazard, but again in order for preparedness to be effective the assumption is that risk reduction measures have been put in place long beforehand. This country's law (RA 10121) specifically calls for disaster risk reduction and management, not just preparedness. But what we've been doing so far is just preparedness. Also, look, one of the reasons for the DRRM Law is to provide local governments the independence and flexibility to allocate funding for risk reduction and preparedness even without declaring calamity. But what are we again seeing? So no, it's not typhoons that citizens ought to pray deliverance for but against the harmful mentality and stubbornness of local governments.
Bayanihan. This old Filipino practice among families within neighborhoods is voluntary ie. it arises from goodwill among people who know or have good relations with each other. It should not be spoken about (especially by broadcast media) as an act that another is entitled to or that Filipinos are obliged to do. Bayanihan is not an obligation. If there is any obligation that stands in the aftermath of disasters it is government's obligations toward it's citizens ie. to protect and uphold rights standards even during emergencies (local governments therefore should know by heart the Sphere Handbook). It is the obligation of government to bring out the necessary resources that have been paid for by taxpayers eg. equipments, manpower, money to clear roads, clean schools, drain floodplains, trim trees, etcetera. At once. Immediately. Local governments should feel ashamed if they have to wait for private agencies and I/NGOs from miles away to be the ones to respond and make physical assessments of the areas. Government, supported by taxes and other resources, should feel ashamed if it relies on bayanihan to bring back order.
Reporting by broadcast media. "Christmas came early for the students of Casili Elementary School in Rizal." Reading this news report further you'd see that it refers to a bridge built with funding from the Foundation of Outstanding Mapuans Incorporated, which school children in said school can now use. What's wrong with the words utilized in this news? It puts forth the message that bridges are Christmas or Santa's gifts instead of as a right and duty (ie. linked to children's right to education as well as a duty of government to protect and address the right of citizens to basic infrastructures). A lot of disinformation and mis-messaging hence ignorance are perpetuated by mainstream media, sadly and unfortunately for the Filipino masses. Similarly, whenever I see recipients of aid being made to profusely thank donors or the government on TV when the aid is merely basic satisfaction of their rights (eg. school supplies relative to right to education, food packs relative to right to survival) I get in a rage. The aid recipients are made to be like rape victims who are abused again and again while everybody's watching and cheering but because they don't have any other option they do what is asked of them. Dignity during disasters is what duty bearers need to protect more than their policy for visibility, always.